Spray Foam Insulation in Poughkeepsie and Nearby Areas in New York
Maximize energy efficiency in your home with quality spray foam insulation
Spray foam insulation provides air sealing and insulation in one highly effective step.
Improving energy efficiency and reducing heating and cooling costs are major priorities for many homeowners. At Xterior Solutions, we provide expert spray foam insulation services that are designed to provide you with the energy solutions you need. We can evaluate your home and recommend the right spray foam insulation for your needs to give you the performance you want.
If you're interested in upgrading your home's insulation, give us a call today to learn more about how spray foam insulation can help you improve your energy efficiency. We offer free estimates on all our work in Poughkeepsie, Carmel, Mahopac and the surrounding areas.
Why choose spray foam insulation?
Foam insulation has proven to be the leading insulation material in terms of performance. While goam insulation comes in many different forms, the most effective is spray foam insulation. In homes across America, nearly thirteen billion dollars worth of energy in the form of heated or cooled air escapes through holes and cracks. This is why the air sealing properties of spray foam are so important and make it such an effective materials. Another factor is R-Value, this is the measurement of a material's thermal resistance. Traditional insulation materials such as fiberglass and cellulose do not air seal and lose a significant amount of its R-Value over time. Foam insulation retains R-Value the longest compared to other insulating materials.
Is spray foam insulation safe?
Yes! Trust us when we say that spray foam is absolutely safe. We would not install any home insulation products in the homes of our family and friends if we didn't think it was safe. All spray foams must must be installed by certified installers to ensure proper application and safety for everyone at the work site.
How does spray foam insulation work?
Spray foam insulation consists of two chemical components that expand as soon as they hit oxygen. Spray foam starts to fill in all the cracks, crevices, and all the hard to reach places. When properly applied by a certified spray foam installer, the spray foam will expand many times its original size. When it expands, it creates an air tight barrier preventing air leakage or infiltration. This dramatic expansion is what makes spray foam great so effective at air sealing and providing improved R-value.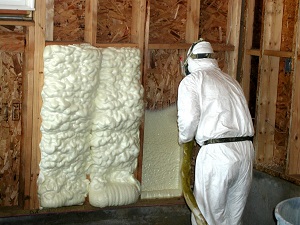 Spray foam application provides a complete insulation solution.
What are the benefits of using spray foam insulation?
Air seals and provides high R-value
Will reduce heating and cooling expenses
Inorganic material won't support mold growth
Serves as vapor barrier
Can increase building structural integrity by 300%
Can be used for soundproofing and dust control
Safe and eco-friendly option
Upgrade to spray foam insulation today
If you're interested in spray foam insulation for your home, the local experts at Xterior Solutions are here to help. We can evaluate your home and recommend the right solutions to give you the energy performance and utility savings you need! Call us today at 1-855-252-2535 or contact us online to get started with a free estimate. We offer quality spray foam insulation in Poughkeepsie, Carmel, Mahopac, Pleasantville, Mt. Kisco, Middletown, Garrison, Brewster, Fishkill, Woodstock and throughout the surrounding areas.
Looking for a price? Get a no cost, no obligation free estimate.