Customer Reviews
About Me
By Donald A.
New Windsor, NY

"We chose then because they have A+ rating on Angie's List!"

By Alison F.
Mount Kisco, NY

By Liana Q.
Wappingers Falls, NY

"The professionalism, courtesy, quick response and of course pricing made my decision easy. Once the job was completed I was..."

By Denise B.
Hopewell Junction, NY

By Rich R.
STORMVILLE, NY

"Jason and his entire team did a fantastic job from estimate to a speedy completion of all the work & clean up."

By Jean
Stormville, NY

"Jason and his crew were very professional and courteous. The crew was always smiling and professional. They did a great job on..."

By Perle S.
Poughkeepsie, NY

"Jadon was extremely professional and prompt. He saved what he could and was conscious of costs. I would highly recommend him."

By Carol W.
Hyde Park, NY

By Sal M.
West Hurley, NY

"Would not hesitate to recommend them. Worked diligently and steadily until the job was completed!"

By Jaime Z.
Poughquag, NY

"New Roof (Owens Corning)"
Testimonials
from customers I've helped!
"I recommend Jason Tabor for all you Xterior needs."

Carolin M. of Poughkeepsie, NY

"Thank you for all your hard work."

Jamie Z. of Poughquag, NY

"I was very happy with my new pretty roof thank you guys for working so hard!"

Lorraine K. of Kingston, NY
Jason Tabor

from

Xterior Solutions
Title:
President
Jason Tabor began working in the construction industry with his uncle at the age of 15. Through installing kitchens, flooring, decks, roofs, windows and also helping with plumbing and electric jobs, he learned quite a bit about the physical part of the construction business. Jason started his first company, a mobile power washing company called Pro-Wash Xteriors, in 2006. This company was a side project to make extra money for his family, but he quickly started to see success. Customers would ask for services beyond power washing, so Jason completed roofing and siding projects as well. He hired further employees and started to grow his business.
In 2008 Jason decided to work for another company, ABC Supply, as an outside salesman. This job gave him the freedom to install and complete jobs for his company while having a steady income for his family. At the end of 2010, Jason was offered a job with Sears Home Improvement as a subcontractor. His team installed roofing, siding, and windows for Sears through out the Hudson Valley. At this point, Jason rebranded his business to Xterior Solutions to reflect the change in services they now offered.
In the spring of 2011, Jason made a career move that would become the best decision for him and his family. He decided to leave ABC Supply and focus on growing his own business. He believed that a remodeling company with superior customer service and workmanship was crucially important for the Hudson Valley. Today, Xterior Solutions has become a top-rated exterior remodeling company in the Hudson Valley and is one of the best reviewed companies anywhere. Jason continues to lead his company to success by satisfying customers time and time again.
Videos from projects I was involved with: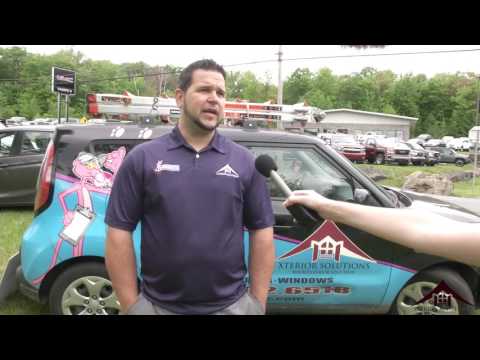 Free Roof Replacement After Homeowner Was...
We received a call from a homeowner after she realized she was scammed by an unverified contractor, Xterior...
Watch Video
Related Videos
Photo galleries from jobs I've worked on:
Before and after photos from jobs I've worked on: